Kern Coalition - California Jobs First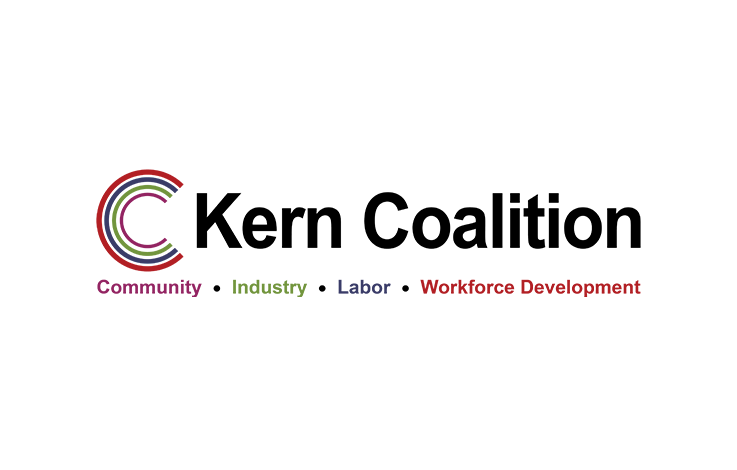 Join the Kern Coalition in developing an equitable economic future for our region!

We are working together to bring good, quality jobs to Kern County through California Jobs First (formerly the Community Economic Resilience Fund).

Governance Council

On November 29th, 2023, a county-wide election was held for each subregion to elect their representatives.

Visit the Governance Council page to see who will represent you as we collaborate in building an inclusive economic and workforce development infrastructure for Kern County.
How California Jobs First is Evolving
The Kern Coalition is dedicated to making sure the effort to bring good jobs to Kern County involves all kinds of people, from every region of our county. We are committed to a fair process where we engage deeply with the community to refine our proposals and bring job development funds to our region.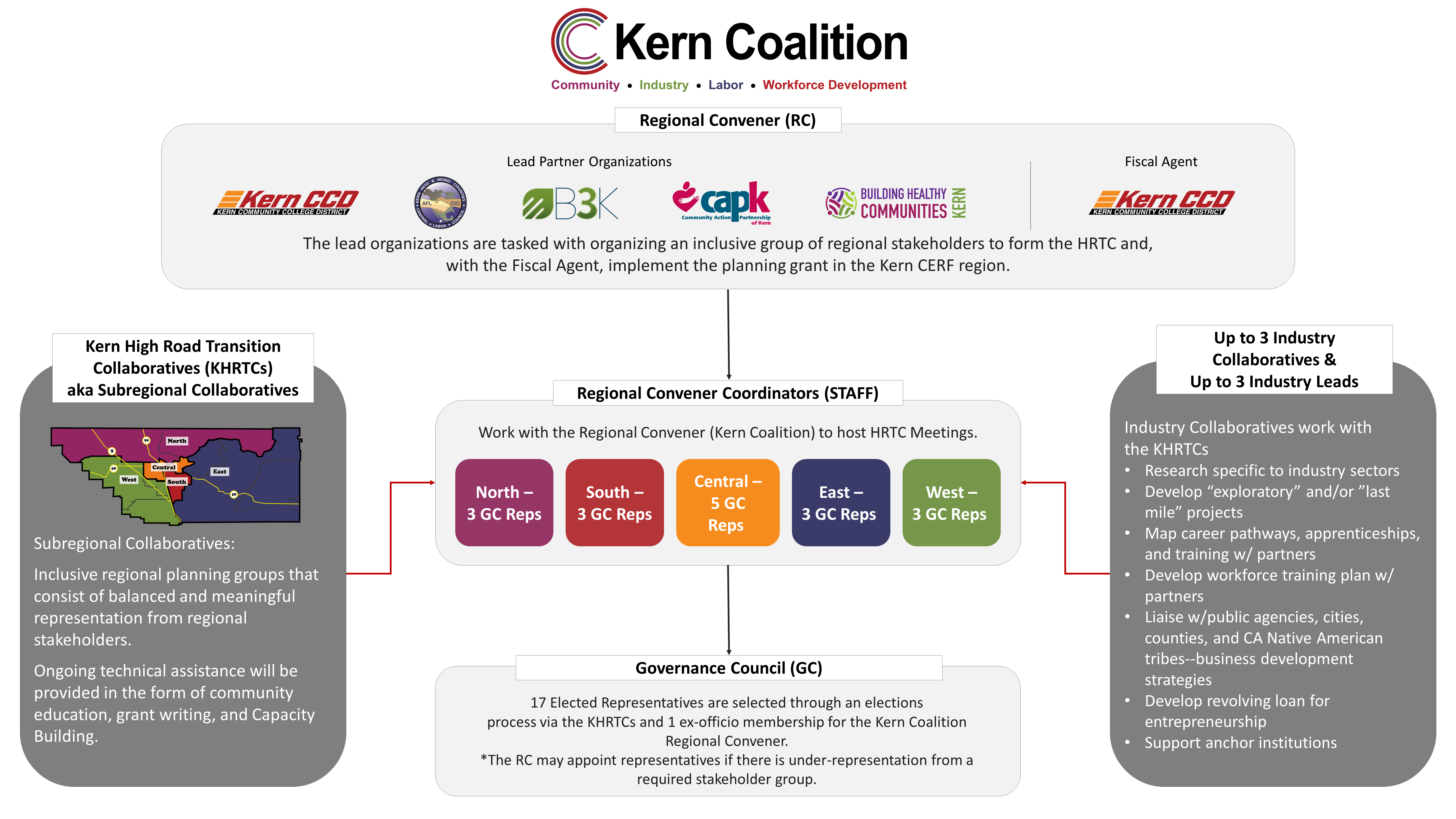 *Information may change as the CERF infrastructure continues to evolve.
---
How the Kern Coalition is bringing good-quality jobs to Kern County:
| | |
| --- | --- |
| English | Español |
| | |
| Tagalog | Punjabi |
| | |
---
Catalyst Program Launched
A request for proposal called Catalyst funding will be coming in September. This funding is designed to bridge the gap between creating plans and getting projects funded. Up to $14 million is potentially available to each California Jobs First region. The Kern Coalition is collecting proposals for our region's application for Catalyst funds.
Submit an idea for Kern County's Catalyst Program application:
Catalyst Funding Idea Submission Form
Submitting an idea does not guarantee funding. Submissions will be kept confidential.
Submit a project proposal for the California Jobs First - Catalyst Predevelopment Phase:
Submitting a proposal does not guarantee funding. Submissions will be kept confidential.
What is the Catalyst Program 2.0?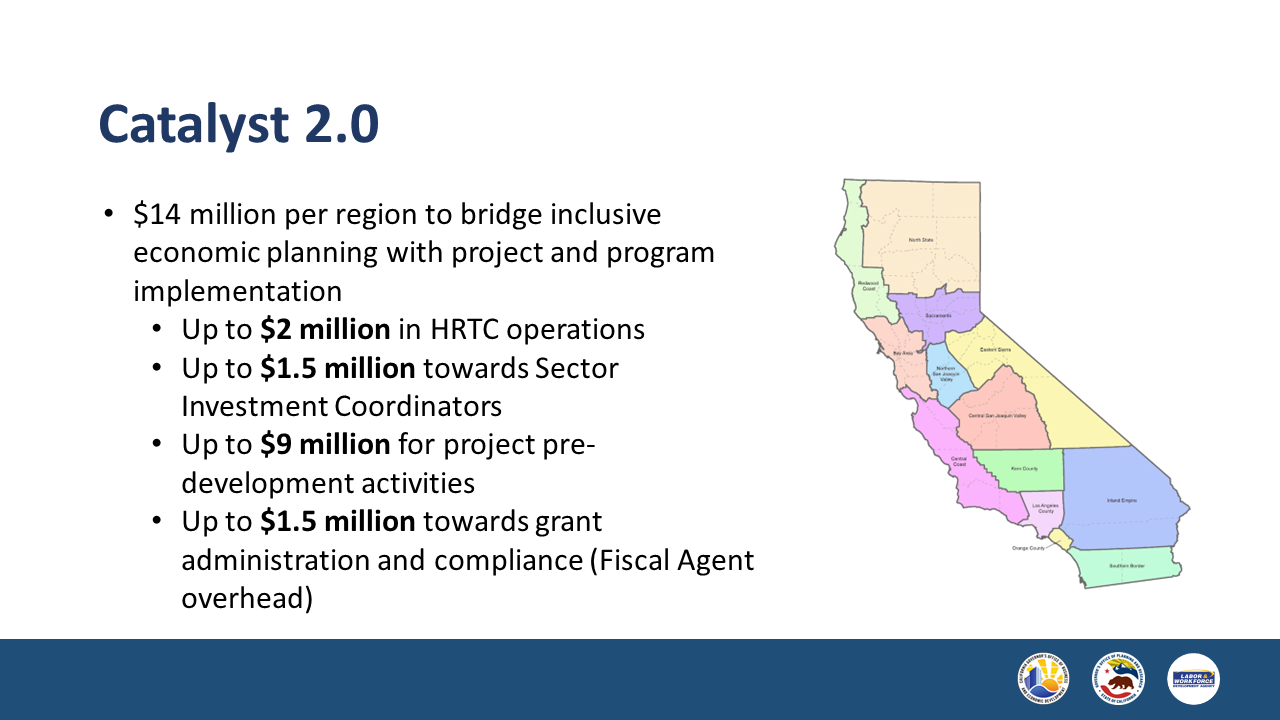 Visit the hub for more information:
Documents
This original document was released on July 17, 2023.
Timeline
Sept 1, 2023 - Applications open
November 2023 - Application period closes
December 2023 - Applications are scored, contracting process begins
Contracting period takes six months
May 1, 2024 - Catalyst Program funds are released
---
About the Kern Coalition
The Kern Coalition was formed with a vision to bring good, quality jobs to Kern County, particularly to the areas that need it the most.
In 2021, the State of California announced the CERF (Community Economic Resiliency Fund) Program, now known as California Jobs First. This program will distribute $600 million across the state, to go toward economic recovery and growth. The funds are being distributed by a competitive grant process, which means each region has to put together a plan and then apply for funding from the state.
Here in Kern County, our goal is to create a grant proposal for funding that includes everyone's voice. Our mission is to have people of all ages, backgrounds, job types and opinions come together and imagine a better future for our community.
Read more about the background, goals and timeline of the Kern Coalition: About the Kern Coalition
---
Newsletter Signup
The Kern Coalition sends updates about events, meeting info, resources and news to our newsletter mailing list.
---
Get Involved
Individuals
Anyone of any age with any background is welcome to join the Kern Coalition. Getting involved means signing up for our newsletter, connecting on social media, and joining our regular subregional collaborative meetings to share your insights about what our county needs for a bright economic future.
These meetings will take place over the next year and a half as the Kern Coalition works with the community to assemble a proposal to submit to the State of California, with the goal of bringing good, quality jobs to Kern County, particularly in areas that need it most.
To make it easy for everyone to attend, the county has been split into five subregions - North, South, Central, East and West. See the "Find Your Subregion" section below to locate your subregion and join the next meeting in your area.
Organizations
The Kern Coalition welcomes local organizations to join us in our mission to bring good jobs to our community. Our current list of partners can be found on the About Us page.
These partners submitted Collective Partnership Agreement Letters (CPALs) when the Kern Coalition applied for grant funds in order to jumpstart the planning process.
If you would like to submit a letter or have questions about how to get involved with the Kern Coalition, email KernCERF@kccd.edu.
You can find a copy of the template letter on the Resources page.
---
Find Your Subregion
Which of the five subregions do you live and work in?
Find your subregion below:
North Subregion
Delano: 93215, 93216
Lost Hills: 93249
McFarland: 93250
Shafter: 93263
Wasco: 93280
Woody: 93287
The North Subregion includes Shafter, Wasco, McFarland, Delano and Lost Hills. For a full list of zip codes and cities, meeting information and resources, visit the subregion's page:
South Subregion
Arvin: 93203
Lamont: 93241
Greenfield: 93307
Fuller Acres: 93307
Edmundson Acres: 93203
Weedpatch: 93241
The South Subregion is the area of Kern County south of the 58 and east of the 99, including Greenfield, Fuller Acres, Lamont, Weedpatch, Edmunson Acres and Arvin. For a full list of zip codes and cities, meeting information and resources, visit the subregion's page:
East Subregion
Bodfish: 93205
California City: 93504, 93505
Kernville: 93238
Lake Isabella: 93240
Mojave: 93501, 93502
Edwards: 93523, 93524
Ridgecrest: 93555, 93556
Rosamond: 93560
Tehachapi: 93561, 93581
The East Subregion is the area of Kern County to the east of Bakersfield, including Ridgecrest, Lake Isabella, Tehachapi, Rosamond and Edwards AFB. For a full list of zip codes and cities, meeting information and resources, visit the subregion's page:
West Subregion
Taft: 93268
Buttonwillow: 93206
McKittrick: 93251
Derby Acres: 93224
Maricopa: 93252
The West Subregion is the area of Kern County west of the 99, including Buttonwillow, McKittrick, Derby Acres, and Maricopa. For a full list of zip codes and cities, meeting information and resources, visit the subregion's page:
Central Subregion
Bakersfield: 93301, 93302, 93303, 93304, 93305, 93306, 93307, 93308, 93309, 93310, 93311, 93312, 93313, 93314, 93380, 93383, 93384, 93385, 93386, 93387, 93388, 93389, 93390
Edison: 93220
The Central Subregion is the area of Kern County that includes Edison and Bakersfield, including the Rosedale, Oildale, Downtown, Southeast and Southwest neighborhoods. For a full list of zip codes, meeting information and resources, visit the subregion's page:
---
Upcoming Meetings
Google Calendar with updated meeting times and locations:
Subregional Collaborative Meeting Calendar
---
Connect on Social Media