About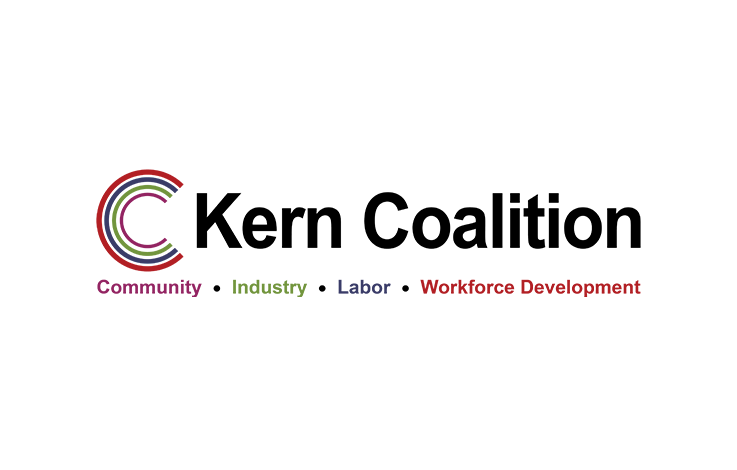 The Kern Coalition is a collaborative of local organizations and communities, formed to respond to the state grant opportunities provided by CERF (Community Economic Resilience Fund).
Five organizations have partnered as co-convenors, with one partner, Kern Community College District, serving as the fiscal agent:
Kern Community College District (Kern CCD), B3K Prosperity, Kern Inyo Mono Central Labor Council (KIM CLC), Community Action Partnership of Kern (CAPK), and Building Healthy Communities Kern.
Kern Coalition Regional Convenors
Learn more about the five regional convenors:
---
Local Organizations
The Kern Coalition is proud to have the support of many local organizations as partners.
---
Background and Timeline
In 2021, the state of California created the CERF program, to provide $600 million in funding across the state. The goal is to create equitable and sustainable jobs that support long-term economic development in disinvested communities.
Who is the targeted audience?
Disinvested communities, communities with high poverty and high unemployment rates, who before, during, and after the pandemic have been economically disproportionately impacted in income equality, those who make up the working poor (6).
What is the timeline for the grant?
Phase I - Planning Grant due July 25, 2022
Planning starts upon receipt of the signed contract, March 6, 2023.
Phase II - Estimated September 2024
What's the expectation of the CERF implementation?
Using data-informed research from labor market analysis and priority industry sectors, develop an integrated localized and/or subregional recovery and transitional plan through a collaborative process of key stakeholders that facilitates economic diversification, sustainability, and equity.
---
Partners commit to unified effort to apply for state community investment dollars
Five local organizations have joined forces to lead an effort in the coming years to bring tens of millions of state dollars and hopefully even more in private investment into our community to create a diverse economy with high-quality jobs that are accessible to all.
The Kern Coalition consists of Kern Community College District (Kern CCD) , B3K Prosperity, Kern Inyo Mono Central Labor Council (KIM CLC), Community Action Partnership of Kern (CAPK), and Building Healthy Communities Kern. The coalition will serve as co-conveners and Kern CCD will serve as fiscal agent in applying for state grant opportunities from the Communities Economic Resilience Fund (CERF), a new $600 million statewide economic and workforce development initiative. CERF, authorized in Senate Bill 162, is an equity-centric, nontraditional approach to a post-pandemic economic recovery that leads to quality jobs and family-sustaining careers.
The Kern Coalition will reimagine what collaboration looks like across inter-segmental agencies as all entities come together with a common goal of bringing jobs to disinvested communities. Leveraging the expertise of each entity will help strengthen the outreach efforts, information and research needed to have a robust CERF engagement process.
This summer, the Kern Coalition submitted a letter of intent to apply for the first round of CERF funding which is a planning grant.
---
Mission & Values
Our Mission
The Kern Coalition's mission is to unify and bolster local efforts that advocate for the equitable attainment of good, quality jobs that promote a resilient economy, and positive health, social, and environmental outcomes in disinvested communities through diverse representation and securing direct investments for economic development strategies.
Our Vision
To eliminate generational poverty and promote equitable, economic mobility for all in Kern County by ensuring investments dismantle systemic barriers.
Our Values
Diversity
Trust
Power-Building
Community-centric
Inclusion
Equity
Transparency
Power-Sharing
Capacity-Building
Accountability
Access
Collaboration
Advocacy
Financial Security